Your DIY Garage for Car, Truck &
Motorcycle Repair
Need some space and tools to repair your car, truck or motorcycle? Come to Wingman Garage and you'll have everything you need to do the work yourself. Here's how it works…
Schedule a bay here at Wingman Garage by calling us or Reserving a Bay here on the website
We'll contact you to make sure you have everything you need to complete your project
Show up, do the work and enjoy the process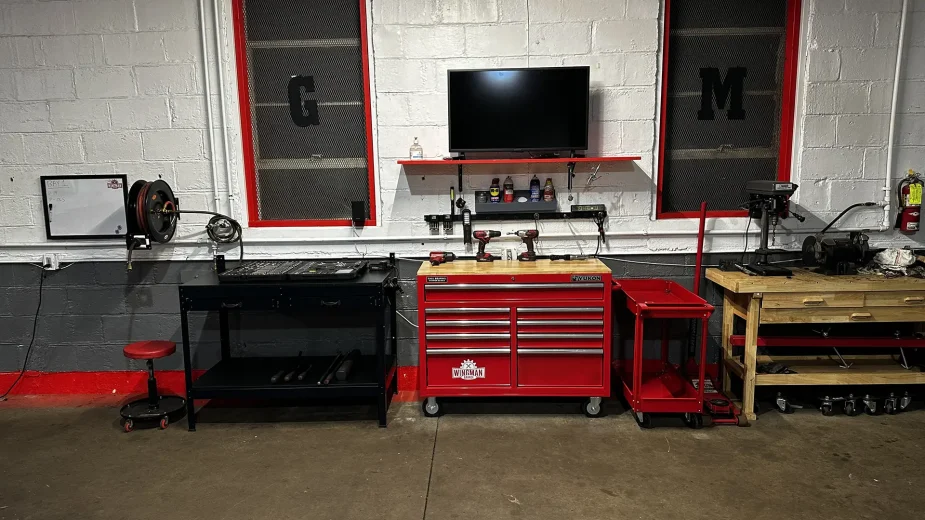 What We Offer at Wingman Garage
We are here to do whatever we can to accommodate you and your needs. Wingman has your back!
Our rates are FLAT! That means there's no upcharge to use certain tools or areas of the shop. Your appointment includes everything Wingman has to offer, which consists of:
A 200+ pc Mechanics Tools Set (per bay!)
Battery Powered Drills & Impacts
A 9000lb lift
Torque Wrenches & Breaker Bars
Oil & Coolant disposal areas
A transmission Jack
Sand Blast Cabinet
Parts Washing Stations
Scan & Diagnostic Tools
Tap & Die Sets
Spring Compressors
If you're ready to spend some time at Wingman, fill out the form HERE so we can get you scheduled.
Have a question? Give us a call! (330) 336-7564.
All of our appointment pricing is prorated. We use these time blocks to better schedule each bay for the work being performed. 
General Maintenance (light bulbs, wipers, air filters, etc)
Under Carriage & Overall Inspections
Oil & Filter Changes
Coolant & Transmission Fluid Changes
Wheel & Tire Rotations
Exhaust Installations (Axle/Cat Back systems)
Intake Installations
Brake Maintenance (Pads & Rotors)
Suspension Maintenance / Upgrades
Radiator Swaps / Upgrades>
Removal & Installation of new bumpers, lights, fenders, seats, etc
Wiring Work
Clutch Jobs
Brake Upgrades (Caliper swaps, Line Changes)
Complete Exhaust Upgrades (Manifolds, Catalytic Converters and so on)
Turbo & Supercharger Maintenance / Upgrades
Suspension Maintenance / Upgrades
Lift & Level Kits for Trucks
Differential Swaps
Radiator Swaps / Upgrades
Removal & Installation of new bumpers, lights, fenders, seats, etc
Wiring Work
Engines Swaps
Transmission Swaps
Head Gasket & other Major Engine overhauls
Turbo & Supercharger Maintenance / Upgrades
Custom Fabrication (No welding)
Subframe Work / Changes